Hello, world; allow me to reintroduce myself.
I'm Michelle Steinke-Baumgard, the founder of One Fit Widow.

I started One Fit Widow more than a decade ago after the tragic airplane crash of my late husband, Mitch. At the time, my kids were 1 and 2, and shortly after his death, I left my corporate VP gig to become a personal trainer and coach after I saw firsthand how much fitness saved my life. I wanted to spread tools to help people MOVE through grief and loss in life.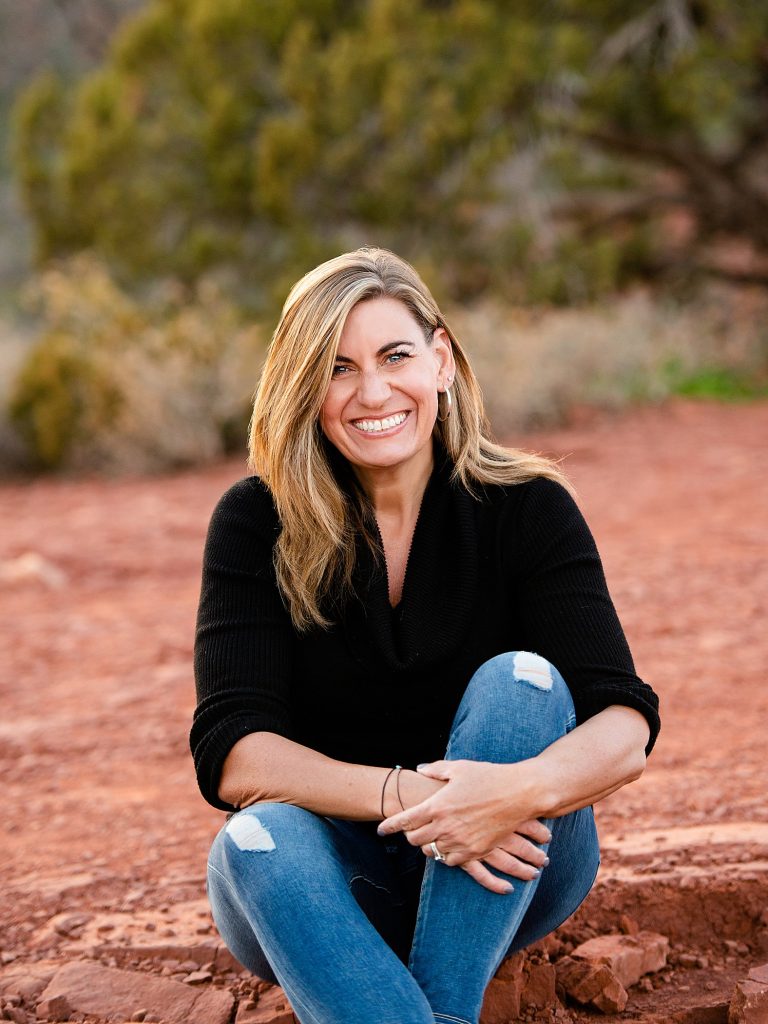 Last year, our family lost four more critically essential people, one right after the other; it was brutal on me, my kids, and our family. These recent losses reaffirmed my desire to help people through grief, all forms of it, because I realize it will continue to touch our lives in one way or another.

One Fit Widow has become so much a part of who I am. We've started two businesses, our hugely successful online wellness program – RISE UP, and our adventure travel business, More Adventures, which honors my late husband's memory of adventure and travel.

I've also written a best-selling book (Healthy Healing) and contributed to publications like Huffington Post and Prevention Magazine. I've spoken on many stages and been interviewed countless times for radio, print, and podcasts. It's been a whirlwind; along the way, we've built a fantastic community of the world's most incredible humans.

One Fit Widow has taken on a life of its own, and it was never about me; it was about taking a word that can be perceived as unfavorable and allowing it to empower young widows and widowers who wish to live boldly beyond loss.

Still, the name, the moniker of One Fit Widow, has taken an emotional toll on me over the years. I've often tried to be all things to all people and hold onto a label that seems more for everyone else. The name, One Fit Widow, has often stopped me from fully evolving into who I wish to become in my next life phase.

I've always wanted to be a trailblazer who broke norms and took her unique path, yet I've felt confined by a label for many years. I have grown in so many ways. The label ONE FIT WIDOW has me feeling stuck, anchored in the past, and unable to breathe as the limitations and expectations of others sit on my heart.

I've begun to let go of the moniker, One Fit Widow, on social media for my mental and emotional health. This change will be a transition, and my website will remain the same, but I want the opportunity to grow as a human, evolve as someone who has experienced a myriad of losses, and open up space for what comes next in my life. I want to tackle so many different topics that fall far outside the realm of widowhood.

I will always be Mitch's widow, but I am much more. I am a mother, a business owner, a daughter, a sister, and a friend. I am also a wife to Keith, who has patiently stood by my side at all times and during all transitions.

I realize this is a disappointment for some, as the name has always been synonymous with healing and growth, but it's time for me to step into what's suitable for me and my personal growth and stop asking for permission from the world.

My writing will still encompass grief, loss, and growth, but it will also include thoughts on mid-life challenges like menopause, blending a family, fitness (as always), marriage, and so much more.

I'm not abandoning the old; I'm making space for the new as a gift to myself and an example to all of you of what comes next. I love what was and what is as I go forward with just the label of my name.

I am and will always be Michelle, and One Fit Widow will always be part of my story, but I have so much more to write as my journey continues.

My Instagram account has already seen a name change to reflect my path forward, Facebook will be more of a process for approval, but I wanted you all to know what is coming and why.

Change is scary even for me, but change is never as frightening as staying locked into something that no longer serves your soul.

Be brave enough to evolve.
Be strong enough to withstand the criticism.
Be true enough to listen to your heart.

That's my plan.

Onward.

Michelle

PS…I will retain the trademark OneFitWidow and begin work on a new project that allows the concept of OneFitWidow to continue in a new way with other people's stories and ideas. More on that later.